Rock Hall Induction Ceremony Returns To Cleveland
The April 14, 2012 Rock and Roll Hall of Fame Induction Ceremony was typically long (nearly 6 hours). Ia??ve covered four of these ceremonies since 2005 and it's been my experience that the artists introducing the inductees deliver the most insightful and wittiest comments of the evening. Billy Gibbons and Dusty Hill of ZZ Top (for Freddie King), Steven Van Zandt (for Small Faces/Faces), Bette Midler (for Laura Nyro) and Smokey Robinson (for the back-up groups of rock legends: The Famous Flames, Crickets, Miracles, etc.) all gave inspired and memorable speeches on behalf of the artists they were inducting into the Rock Hall.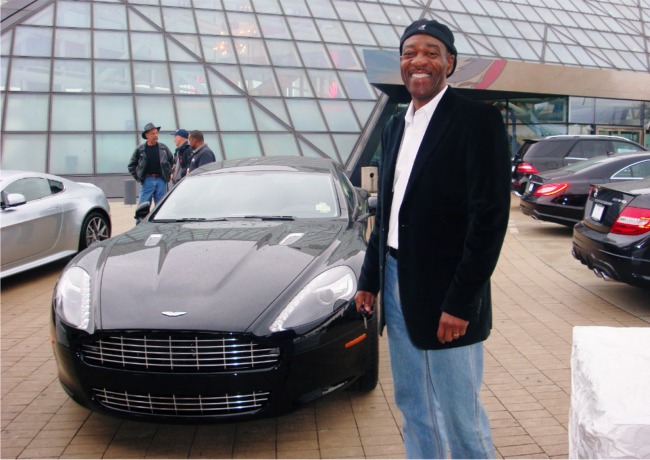 Gibbons and Hill kicked off the Halla??s Class of 2012 roll call. They exuded genuine gratitude for the honor off inducting their fellow Texan, the late blues guitar great, Freddie King, posthumously into the Rock Hall. Hill noted that King gave him his first real break in the music business by allowing the ZZ Top bassist to play in his band. They respectfully welcomed Kinga??s daughter, Wanda, to the stage. Ms. King humorously shared how, at age 6, she first found out her dad was a musician by attending a Regal Theater soul revue matinee in Chicago. Wanda said when she saw her father step into the spotlight onstage and start wailing on the guitar she then realized why her father had been so angry at her and her siblings when they, while playing in the apartment a few days earlier, had snapped the neck of his prized Gibson Les Paul.
Van Zandt was very funny in recounting his high school garage banda??s shock when a Facesa?? album cover revealed to them that the new Facesa?? singer with the raspy, soulful voice, Rod Stewart, was white. a??GedOUTTAhere!a??
Midler actually came to tears as she recalled the pure, uncompromising artistry of Nyro… something I've never seen this tough New Yorker ever do on stage. And,
Smokey delivered the quote of the evening: "The stage is a mighty place."
However, when he inducted the serene seeker, Donovan Leitch, John Mellencamp tried too hard "to do his best James Dean". Mellencamp, despite his honest affection for Donovan, came off as crude and disrespectful—flicking a lit cigarette into the orchestra pit area and spitting his gum onto the stage floor by the lectern. In amusing counterpoint, when Donovan took the lectern, he graciously thanked all those responsible for inducting him by reciting a beautiful poem he wrote just for the occasion.
As much as I love to hear Chuck D pontificate, he rambled too long in his remarks inducting The Beastie Boys. However, LL Cool J was concise, charming and finally welcomed Mike Diamond and Adam Horovitz of The Beastie Boys to the stage. Adam Yauk's health challenge prevented him from attending, so the Beasties themselves did not perform. Not to worry. Travie McCoy, Black Thought and, most notably, Kid Rock then spit a rollicking tribute to The Beastie Boys with The Roots providing slamming live music.
Unfortunately, whoever was handling the sound mixing was not on top of his or her game. The bass was way too "boomy" and the guitars too loud (Slash) or too thin (for the immensely talented Ronnie Wood, sadly enough). Hopefully, the sound will be fixed by the time the edited 2012 RRHOF Induction Ceremony airs Saturday, May 5, 2012, on HBO.
Overall, the live performances were uneven. Green Day (who opened the 2012 Induction Ceremony by exploding onto the stage with a??Letterbomb"), Darlene Love, Sara Bareilles and The Red Hot Chili Peppers, to use posthumous 2012 Inductee Don Kirshner's favorite superlative, were absolutely "great."
Simply Red's Mick Hucknall subbed for the apparently flu-ridden and absent Rod Stewart when The Faces performed. The audience loved it, but my ears and eyes were spoiled by actually hearing and seeing The Faces with Rod, Ronnie, Kenny and Ian in full "rock-your-socks-off" mode back in 1975 at The Fox Theater in Atlanta.
Jeff Beck opened that night in Hotlanta. Next, a young Aerosmith came on. Well, we were all young then. I was 21 at the time and thought a??there is no way that The Faces can top what Jeff Beck and Steven Tyler and Joe Perry just did ". But, The Faces sensed the challenge, took the stage and laid the sold-out Fox Theater to waste. Aside from the 1995 Inaugural RRHOF Museum all-star concert in old Cleveland Browns Stadium, the Jeff Beck/Aerosmith/Faces show in Atlanta is the best rock concert I've ever witnessed.
So, when Hucknall launched into "Stay with Me," I almost said aloud: "I've heard Rod Stewart sing this song, Mr. Hucknall, and you're no Rod Stewart."
Still, all in in all, it was a great night for rock. An even greater night for Cleveland.
Written April 16, 2012 by Jack Marchbanks
Commentary and All Images 2012 (c) Jack R. Marchbanks
---
Learn about music legends of jazz, funk, soul, rock and gospel music. Hear interviews, documentaries and read commentaries about the top musicians and recording artists in history.
Check out otherA?collaborative worksA?by Enteje founders.